New timer in PlanViewer
We made the timer in the PlanViewer more clear: it is now easier to determine how much time is left until the next set of activities.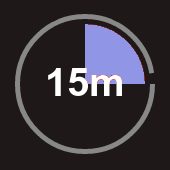 Switch between 12 or 24 hour clocks
Also added is the possibility to change the date and time formats. For example: you can now switch between 24 and 12 hour clock notation. We also have different date formats available. You can find these new settings under "Account settings".
Custom logo
Organisations can now upload a custom logo. The logo will be displayed when printing schedules and is also visible in the Planner and PlanViewer.
You can upload a logo in the "Account settings" screen.